The USDA, Community Facilities (CF) program has received an application for financial assistance from the Town of Hardwick. The proposal consists of the following work located on Daniels Road connecting to South Main Street in Hardwick, VT; complete demolition and removal existing pedestrian walkway structure; the northern and southern abutment need to be replaced; construction of an additional simple truss bridge to be installed in the place of the current existing pedestrian bridge. If implemented, the project will adversely affect a property that is listed or eligible for listing with the National Register of Historic Places. The purpose of this notice is to inform the public of this proposed adverse effect and request comments concerning the proposal, alternative sites or actions that would avoid these impacts, and methods that could be used to minimize these impacts.
The entirety of this proposed bridge project takes place inside the Downtown Hardwick Village Historic District. The suspension bridge contributes in the historic district with a district number of #62. Therefore, the bridge is considered a 'historic site'. All properties considered contributing to the historic district continue to retain their historic integrity and NR eligibility.
In accordance with 36 CFR Part 800.6, a draft Memorandum of Agreement has been prepared by CF program, Town of Hardwick, and the Vermont State Historic Preservation Office.
The environmental documentation regarding this proposal is available for review at the USDA Rural Development office at 481 Summer Street in St. Johnsbury or 28 Vernon Street in Brattleboro. For questions regarding this proposal contact Alexander T. Gauthier at 802 689 3034.
Any person interested in commenting on this proposal should submit comments to the address above by September 28, 2023.
A general location map of the proposal is shown below.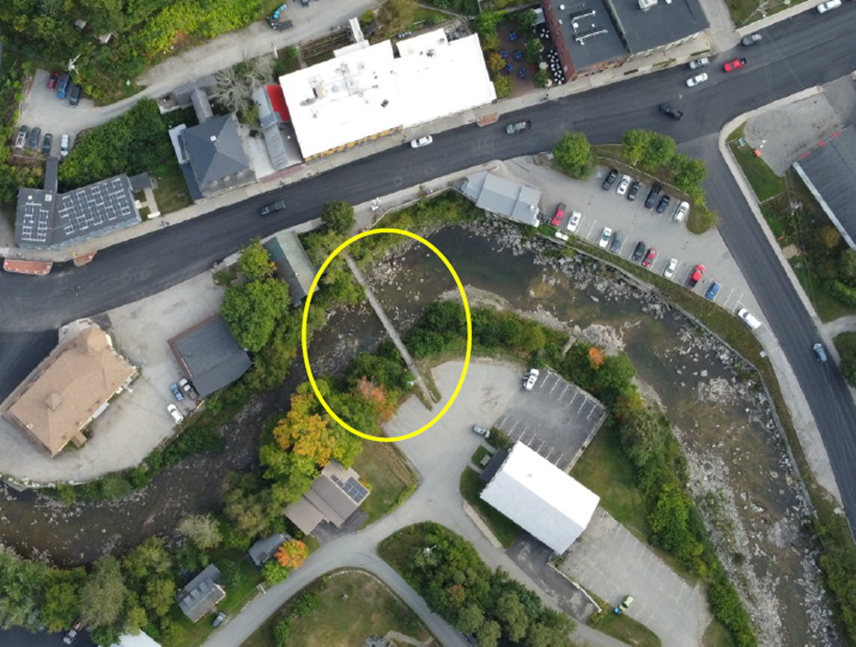 ---